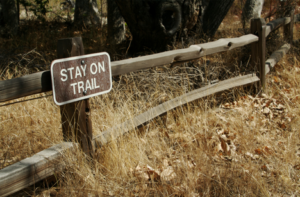 Most of us are working today toward a better tomorrow. We're doing all we can to achieve our short- and long-term, big-picture goals. But I bet you know someone who is struggling. Maybe they think they are working hard when they really are just coasting. Maybe they seek out and get great advice only to ignore it. Maybe they are throwing away their opportunities.
It's important to be realistic about our goals and our efforts to achieve them.
A friend sent me an email not long ago detailing the ups and downs of a former co-worker who is now unemployed and trying desperately to find meaningful work. This person didn't get into this grim situation by accident—he put himself there.
He had a great job. It was the kind of job that should have been his key to success—had he taken advantage of the opportunity.
His Own Worst Enemy
This guy had many issues, including a poor work ethic. He also was deluding himself about the work he was putting in. He frequently asked for advice, and good advice was given but he ignored it—every time. In the end, he squandered every opportunity for success.
On many occasions, my friend talked to his former co-worker about things he could do differently. He warned him that his company was looking for results—right now, today. (The guy said he was working on things that would take many years to develop, and that management was good with that approach.) When he was let go, the guy was quite insistent that he didn't see this coming—despite the solid (and, again, solicited!) advice that my friend offered to him.
Of course, it doesn't have to be that way.
The Power of Hard Work and Good Advice
I've coached several salespeople who started their careers with companies that were not market leaders, and they began with the weakest territories, too. But these go-getters embraced their challenges and followed the good advice that was given to them.
They overachieved in spite of the rough starts they had. Then, once they proved themselves, they were given more and bigger opportunities. After a while, the competition began noticing them, and suddenly they were getting offers inside and outside their companies.
The momentum they created—from not much of anything—led them to increased success. And they continuously sought out and followed sound advice—from me, from coworkers, from business blogs. You name it—if the advice was good, they took it in. Proverbs 11:14 says, "Where no counsel is, the people fall; but in the multitude of counselors, there is victory." And that is true. Today, some of these people I coached from humble beginnings are heading up their own companies.
My friend's former co-worker's situation is extreme, and surely there's more to this story, but consider it a cautionary tale, and ask yourself this: "Am I doing what I should be doing to not only work in the moment, but also stay in the game long term? Am I seizing each and every opportunity that comes my way? Am I taking advantage of good advice from friends and mentors?"
And in the end: "Am I really, truly committed to doing what I do better?"